Experiential marketing for tourism and travel brands, such as CVBs, destinations, hotels and airlines, is an effective way to promote your own adventures to prospective travelers. Experiential marketing gives you a promotional edge over print and digital communications. We're counting down some of our favorite travel-inspired experiential marketing examples below.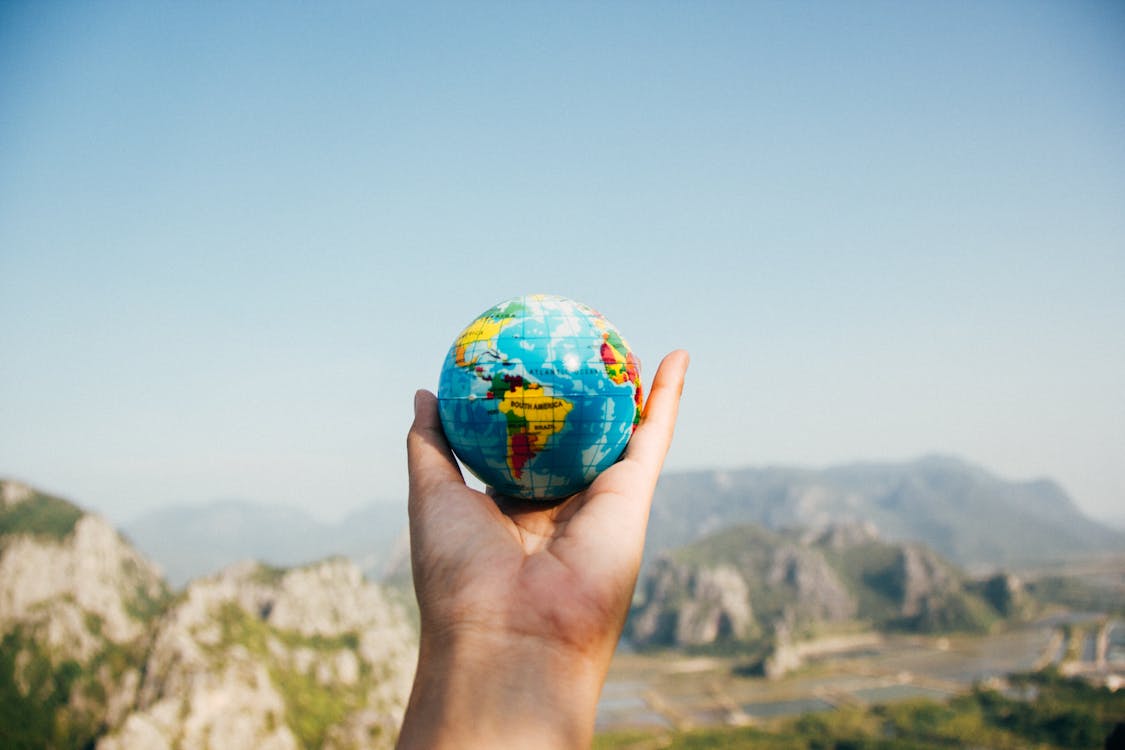 You already know that choosing experiential marketing for tourism and travel is a no-brainer. That's why we've rounded up our favorite experiential marketing examples of travel industry members who did it right. Check them out!
16) Live High Five
KLM found a spontaneous way to bring people together, even when they're thousands of miles apart. Using touch screens set up in Amsterdam and New York, people walking by had the chance to give a high-five – through the screen! It was a fun way to connect two parts of the world, and the prize of tickets to a new destination weren't a bad touch either!
15) The Imagination Machine
S7, a Russian airline, wanted to help Russian people travel, since the airline found they don't often travel. But, they had 45 seconds to prove that they REALLY had to want it. The airline set up an Imagination Machine that measured brain waves, and if they focused hard enough on their destination, they won free tickets!
14) Poutinerie
In order to invite Europeans to Canada's foodie culture scene, they popped up restaurants featuring Canadian-specific cuisine. Paired with a a media push and social elements, this experiential marketing for tourism campaign stirred a lot of excitement for across-the-pond travel.
13) A Virtual Honeymoon
Marriott set up outside New York's City Hall, where New Yorkers tie the knot each day. Then they whisked newlyweds off to honeymoons in London and Hawaii – virtual reality style! Marriott has used virtual reality throughout their marketing and guest relations, and this use case makes our list for a thoughtful experiential marketing for tourism example.
12) Not Vanilla
Visiting Ottawa is filled with unexpected adventure. To share that message, Ottawa released a few unexpected ice cream flavors to represent the various categories of excitement to be found withing their destination. Ottawa – nor this experiential marketing example – is anything but vanilla.
11) Big Sky Country to the Concrete Jungle
The Montana Office of Tourism launched a campaign that made city-goers want to head for the wild in Montana. The mobile tour included a Montana Mercantile food truck that handed out huckleberry ice cream and bison jerky, and a bison head and 3-D photo mat for some perfect photo ops. It was experiential marketing for travel that really made people say, "I'd rather be in MT!"
10) Visit Britain Delights in Moscow
The Brits have arrived! ….in a Moscow mall! This surprising stunt by Visit Britain and British Airways makes our list for a bloody good experiential marketing for tourism example, complete with The Beatles, James Bond and the Queen.
9) Catch the Kid in New Mexico
To promote travel within the state, the New Mexico Tourism Department used the help of the legendary Old West gunslinger Billy the Kid. Their Catch the Kid campaign challenged New Mexico residents to a summer-long scavenger hunt through the state to "capture" Billy the Kid using clues for a grand prize of $10,000.
8) From Manhattan to Milan
British Airways brought American destinations to life for Europeans. Using Oculus Rift virtual reality, a fast-growing trend in experiential marketing for travel, participants were transported from Frankfurt and Milan to the Wild West, the California coast and the middle of Manhattan!
7) Palm Springs Ice Block Challenge
Palm Springs and JetBlue brought a seasonal, fun and shareable challenge to Manhattan – in the middle of January! New Yorkers were challenged to "break out of the chill" by using whatever tools they could to pick out summer essentials frozen in giant blocks of ice. A grand prize ticket was also hidden in the ice: a free trip to Palm Springs!
6) Terranea Resort Drive Series
Southern California's Terranea Resort has given their guests a new way to explore! Their Lexus cars with pre-programmed GPS can take travelers to several choice locations – Point Vicente Interpretive Center for whale watching, South Coast Plaza for the best SoCal shopping or Abalone Cove for a peaceful walk on the coast!
5) "Europe. It's just next door."
SNCF, a French rail network, opened the door for travelers – literally! They set up colorful doors around European cities, and when passersby opened them, they caught a fun glimpse into another city, showing that with SNCF, they're "just next door."
4) Layover with a Local
KLM makes the list again! This time, they created an app that helped flyers pass the time during a long layover in Amsterdam airports. It connected passengers with a local, and gave them a free ride into the city. It helped travelers see Amsterdam through the eyes of a local, rather than a tourist – and gave them the most fun layover experience they've ever had.
3) The Swedish Number
Before traveling to a faraway land, perhaps you'd like to speak with someone who lives there? Well, that's exactly what this experiential marketing campaign allowed people to do. Ring a ling.
2) JetBlue – Unanimous Flight Decision
JetBlue decided to give a plane full of people a round trip ticket to a destination of their choice. The catch? The entire plane had to vote unanimously on one destination! This is one of our favorite campaigns because in a time where politics often divide the country into two unyielding sides, JetBlue proved that people really are willing to compromise for the greater good. It's a feel-good campaign that's super shareable – and that's awesome experiential marketing for travel!
1) Live Feed from the Swiss Mountains
Graubünden Tourism's experiential marketing campaign tops our list for the best tourism activations we've seen. Watch what happens when you combine an emotional appeal, a human element, the right technology to drive the simplicity of the activation and a few free tickets to go explore a new destination.
In addition to these real-life examples of experiential marketing done right, check out our five experiential tourism marketing ideas for your early planning stages.
Want to create your own top-ten worthy travel campaign? Give us a ring!
This article was originally published on August 1, 2017. Updated.